Luminesk Polaris Vida Tote Bag
Description
Our Polaris Star Tote was so popular we just had to create a Vida version, and isn't she sexy.
We designed Polaris specifically for you if you love totes and/or shoulder bags. With a moderately large body size, she will fit all the everyday item's you'll need in your everyday life, including a 15″ laptop.
Just like every Luminesk bag in our family, Polaris changes color by reflecting light, so be prepared for your new tote to stand out from the crowd in your next group photo. As the angle of light changes, so do the colors of your Polaris Vida Tote, reflecting a beautiful universe of vibrant colors.
Add this beauty to cart today. So you can carry all your lovely things with our lovely colorful Tote 🙂
Details
Size in inches (H:10.82″ | W:23.22″ | D:5.31″)
Size in cm (H:27.5cm | W:59cm | D:13.5cm)
Shoulder strap size in inches (H:10.43″ | W:6.3″)
Shoulder strap size in cm (H:26.5cm | W:16cm)
Designed with the new Luminesk sleek vida pattern
Luminesk purple soul interior lining with 1 internal pocket with zip and 2 open pockets lined with reflective trim and gunmetal Luminesk badge
Gunmetal hardware
Delivery
Christmas Shipping Times
All orders are currently delayed, so if you would like to improve your chances of receiving your order before Christmas please consider selecting priority shipping (2-7 days) at checkout. International orders can also select this option, but it is expensive, and may not guarantee receiving the order on time. Please also note, any orders placed from December 15 will not be refunded if they do not arrive in time for Christmas, as the shipping dilemma is out of our hands at this point. We do apologise for any inconvenience this may cause.
Free Insured Shipping
United States:
If order is over $75 USD.
Outside United States:
If order is over $100 USD.
Delivery Times:
United States:
3-8 business days, unless it is on back order, in which case it will take 4-6 weeks.
Canada, Europe and Australia:
Typically 4-10 business days, however due to COVID-19 expect delays in the 2-6 week range.
Other countries:
expect 1-6 week delivery time.
Other Shipping Details
All Orders Ship From USA:
We ship worldwide (except United Arab Emirates and Saudi Arabia)
Shipping Insurance:
For a limited time, all shipping methods can be upgraded to FREE shipping insurance, so in the event your order is not stated as delivered, we will cover it 🙂
Processing times:
Between 1-2 business days, 3-4 business days during peak seasons.
Tracking Numbers:
You will receive a tracking number once your order has shipped.
Customs Fees / Duties:
Customs / Duties fees on orders outside of U.S may or may not be charged by customs within your country. Any fees that may be charged are the responsibility of the customer.
Orders that Include Back Order Items:
Orders that include back order items will be shipped together with the non-back order items that were purchased in the same order.
For further shipping information
click here
Customer Reviews
11/12/2020
Michelle M.

Canada
I recommend this product
Amazing quality
Love my bag! Use it every weekend as an overnight bag when going to my boat. Very sturdy, hold so much stuff! Used it all summer and still looks great. Totally worth every penny. Also have the makeup bag but use it for accessories instead.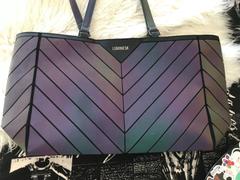 An overnight boat bag! Why not 🙂 Thanks for the kind words Michelle!
08/04/2020
Amber L.

US
I recommend this product
Love!
Love my tote bag ...but unfortunately I did not receive my backpack I ordered at the same time. I have sent multiple emails and no response.
Hello Amber, so glad to hear that you love your tote bag! I'm sorry that we have not replied but i can't seem to locate any emails from you. There may be something wrong with our contact us form which we are currently looking in to. I can see that you pre-ordered the Aquila backpack. This is a new bag and was on pre-order with the anticipated delivery date of end of August. The good news it that we will most likely be shipping this approximately 2 weeks ahead of the estimated date. I hope that helps clear things up!
06/23/2020
Auutumnn R.

United States
I recommend this product
WOW!!!! I'm in love!
I'm absolutely in love with my Vida Tote and Vida Wallet! This pretty tote goes everywhere with me!! I may never, ever wear my designer bags again! I love it, love it , love it!!!! Thanks Luminesk!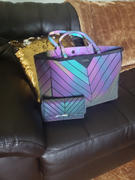 Thank you very much for the kind words Auutumnn. It wasn't our intention to replace your other bags, but we'll definitely take it 🙂