Description
The original bag that set the world into a color frenzy. Our Luminesk Star Handbag will change color, and change your wardrobe like no handbag has done before.   A fun and stylish holographic handbag that changes color when it reflects light at different angles (it does not glow or have magical powers). Be prepared to receive all the compliments when you wear this bag out in public – not even kidding.
Details
Size in inches (8.85" x 15.15" x 5.3")
Size in cm (22.5cm x 38.5cm x 13.5cm)
Designed with the popular Luminesk geometric shard pattern
Luminesk purple soul polyester lining
Zipper close handbag with detachable cross body strap. Adjust size to fit
One internal pocket with zip and two internal open pockets with Luminesk reflective trim
Delivery
Christmas Shipping Times
All orders are currently delayed, so if you would like to improve your chances of receiving your order before Christmas please consider selecting priority shipping (2-7 days) at checkout. International orders can also select this option, but it is expensive, and may not guarantee receiving the order on time. Please also note, any orders placed from December 15 will not be refunded if they do not arrive in time for Christmas, as the shipping dilemma is out of our hands at this point. We do apologise for any inconvenience this may cause.
Free Insured Shipping
United States:
If order is over $75 USD.
Outside United States:
If order is over $100 USD.
Delivery Times:
United States:
3-8 business days, unless it is on back order, in which case it will take 4-6 weeks.
Canada, Europe and Australia:
Typically 4-10 business days, however due to COVID-19 expect delays in the 2-6 week range.
Other countries:
expect 1-6 week delivery time.
Other Shipping Details
All Orders Ship From USA:
We ship worldwide (except United Arab Emirates and Saudi Arabia)
Shipping Insurance:
For a limited time, all shipping methods can be upgraded to FREE shipping insurance, so in the event your order is not stated as delivered, we will cover it 🙂
Processing times:
Between 1-2 business days, 3-4 business days during peak seasons.
Tracking Numbers:
You will receive a tracking number once your order has shipped.
Customs Fees:
If you pay for international shipping it also includes customs fees, so you will not need to pay customs for your order when it arrives. Free international shipping does not include customs fees, so you may be charged for customs fees on orders that we ship free.
Orders that Include Back Order Items:
Orders that include back order items will be shipped together with the non-back order items that were purchased in the same order.
For further shipping information
click here
Customer Comments
In stock
Customer Reviews
09/15/2020
Brenda M.
United States
08/19/2020
Vivica .
United States
I recommend this product
Love my handbag so far
Well it my first day having it I just love how it look in the sun and also when i flash my habdbag with my phone also I love this handbag because I can stand out I don't have to follow the trend I just need to be me and that being diffrent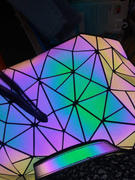 Oh we can't love this enough! That's exactly why we created these bags so you can be yourself and stand out ❤️. Thanks so much for your review 🙂