Description
Our most popular Luminesk wallet is now available in the sleek and edgy Vida pattern. This rainbow reflective wallet will attract all sorts of looks and compliments every time you pull it out at the cash register.
This slimline wallet will not only put a smile on your face every time you use it, but it will fit all the essentials, even your iPhone Plus.
Details
Size in inches (3.9"H X 7.6"W)
Size in cm (10cm H X 19.5cm W)
Designed with the sophisticated Luminesk Vida pattern
Interior vegan black leather with 1 open pocket, 1 zipped pocket, 8 card slits, 2 card window slits
Gun metal hardware
Delivery
Free Insured Shipping
United States:
If order is over $75 USD.
Outside United States:
If order is over $100 USD.
Delivery Times:
United States:
3-8 business days, unless it is on back order, in which case it will take 4-6 weeks.
Canada, Europe and Australia:
Typically 4-10 business days, however due to COVID-19 expect delays in the 2-6 week range.
Other countries:
expect 1-6 week delivery time.
Other Shipping Details
All Orders Ship From USA:
We ship worldwide (except United Arab Emirates and Saudi Arabia)
Shipping Insurance:
For a limited time, all shipping methods can be upgraded to FREE shipping insurance, so in the event your order is not stated as delivered, we will cover it 🙂
Processing times:
Between 1-2 business days, 3-4 business days during peak seasons.
Tracking Numbers:
You will receive a tracking number once your order has shipped.
Customs Fees:
If you pay for international shipping it also includes customs fees, so you will not need to pay customs for your order when it arrives. Free international shipping does not include customs fees, so you may be charged for customs fees on orders that we ship free.
Orders that Include Back Order Items:
Orders that include back order items will be shipped together with the non-back order items that were purchased in the same order.
For further shipping information
click here
$53.99USD
Prices go up when the timer hits zero
Customer Reviews
06/25/2020
Kaytlin C.
US
I recommend this product
Beautiful
I got this after purchasing the Vida Mini Backpack because you gotta match ya know. They are both available gorgeous. I've gotten so many compliments and people asking me where I got them. I actually just ordered the Vida Tote because I wanted something bigger. Definitely worth the price and something unique to add to your bag collection!!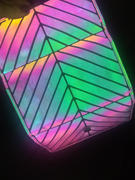 Yes Kaytlin we do know lol Thank you so much for your kind words 🙂